Sargent Steam Cleaner – Dental Office Sanitizing System
Eliminate Deadly Bacteria
Save Time, Money, Labor and Reputation
Dental Offices That Sparkle and Shine!
Sargent Steam Cleaner – Dental Office Neccessity
Many dental offices, including Bishop Family Dental sanitize with Sargent Steam cleaners daily. They keep their operatories, labs and waiting room areas germ-free and their infectious rate at nearly zero.
No germs can survive exposure to 300 degree steam.
Sargent Steam protects patients, employees and visitors from contracting life threatening infections like Staph, MRSA and C-Diff.
You'll find a Sargent Steam Cleaner in dental offices that shine!
Use Sargent Steam Cleaner in Dental Offices
to Meet Three Critical Challenges and Assure Sanitizing Your Dental Office Remains Profitable
1 – Labor Costs
Any system that takes your employees 10 minutes longer than necessary eats up cash.

We'll train your crews to simultaneously clean and sanitize quickly, efficiently, effectively using modern professional tools that do a better job in less time.

Dentists use an x-ray machine, not a tube and a flashlight, right? Are your environmental services teams still using cleaning tools from last century?
2 – Consumables Costs
Adding up the cost of all those consumable disposable chemicals can be a frightening number. The more of them you use, the more they cost.

They also put your employees at risk requiring masks and gloves to protect their health. Not to mention the super bugs they can create.

Ask us how to save money and lives while doing a thorough job.
3 – Lost Reputation
It only takes one patient who feels your dental office isn't clean and sanitary to tell all her friends about her less than stellar experience.

A pristine dental office is key to building the confidence that keeps your patients coming back and sending you referrals.

You'll agree, peace if mind and your patient's confidence is an invaluable business asset.
Laboratory Tested and Proven Effective
Dr Richard A. Robison PhD., director of Microbiology at Brigham Young University tested Sargent Steam cleaners for their ability to kill microorganisms.
His lab results proved Sargent Steam cleaners eliminate bacteria and germs like Pseudomonas in 2 seconds.

Sargent Steam cleaners produce extremely rapid kill rate that cannot be duplicated by chemical disinfectants.
- Dr. Richard A. Robison, PhD.
Steam is Recommended by the CDC
The Center For Disease Control recommends "steam" as the number one method
for sanitizing patient care items and environmental surfaces.
Sargent Steam Cleaner in dental offices is the perfect solution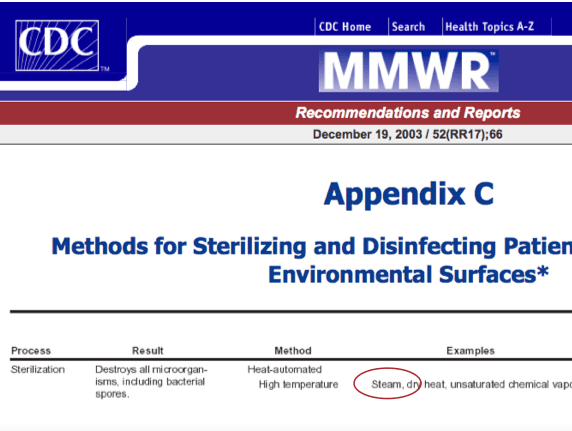 I am a dentist in Salt Lake City Utah. A little over a year ago I purchased a Sargent steamer for our office to help with cleaning and sanitation. I have been nothing but happy with the results we have gotten.
When I come into the office after we have cleaned with the steamer I notice a huge difference. It's as if the office is sparkly! Everything feels and looks so clean and pristine. Not only does it look clean, it is sanitized as well.
As a dental care provider, sanitation is one of our top concerns and the steamer has helped us feel we are providing the cleanest environment possible. I just can't say enough good things about it!

- Victor O. Pickett DDS

We have used the Sargent Steam cleaning system in our dental office for over one year and have been impressed with the results.
The bathrooms that had discolored surfaces are restored to the original white. Mirrors not only are bright but they seem to retain clarity longer than when using traditional cleaning methods. We have also cleaned carpet spills, windows, blinds and patient operatories.
The office has never looked better! I would highly recommend Sargent Steam as the optimum cleaning tool for business and home.

- Leslie - Salt Lake City

Joyce brought her Sargent Steam cleaner to my office to show my staff how to use it. We were pretty impressed with all the things it could get cleaner than they had ever been.
Now we use it all over the office every day and nothing ever gets away from us. No big projects, just routine tasks that take less time than they used to when we did them by hand.
LOVE IT!

- Daniel Bishop DDS - Bishop Family Dental

The Sargent steamer is very versatile. It is portable, lightweight, and durable. Most steamers made for lab use are heavy, not portable and take up quite a bit of room in order to have the capacity to run all day. We fill ours at the beginning of the day and use it all day.
The pressure the Sargent provides is enough to cut through wax, articulating ink, oxide, generally clean whatever we need it for.
I have used the Sargent steamer at home for all types of cleaning. I liked the personal use so much I ended up purchasing a second one for home use.
We have owned our Sargent over 15 years. In that time it has needed replacement seals on occasion. I found everyone at Sargent Steam to be extremely helpful and eager to complete our repair as quickly as possible.
- Valena McGill - Certified Dental Lab

I love my Sergent steamer! It makes cleaning and sanitizing so easy and even fun!
Having a sergent steam in a dental office makes everything so much easier! What a wonderful way to keep everything clean and sanitized. With all of the great features of my steamer I am able to clean everything in my home, office, car and even golf clubs!
It is my greatest tool! Such a good investment!

- Toni Brown

The Sargent Steam machine is an amazing machine. I work in a dental office that uses the machine on a regular basis. I can tell you that sanitation is a very high priority and the Sargent gives us all peace of mind knowing that we are providing our patients and employees with a clean, germ-free environment.
Sargent Steam is a machine that is a must have in any healthcare environment as well as your home.

- Kim Dominguez
If You Manage
a Dental Office, Oral Surgical Center or Dental Lab
You are concerned about the cost of patients contracting secondary infections while under your care (deadly infections like Staph, C. Diff or MRSA) it's essential to develop a simple versatile cost effective solution to keeping your facility both germ-free and profitable.
A system that controls labor costs, consumables costs and prevents possible lost reputation. One that's faster, safer and more cost effective than the expensive harsh toxic chemical disinfectants currently in use.
At Sargent Steam, we do something very unique in our industry. We eliminate many of the costly problems health care facilities face when trying to get (or keep) their spaces clean, sanitized and germ-free.
We offer the ultimate solution for health care professionals who must eliminate harmful germs quickly and easily or pay the price.
Sargent Steam offers a fast, simple, proven system. Many of your competitors are already using it. A Sargent Steam Cleaner in dental offices successfully reduces or eliminates Staph, C. Diff and MRSA infections.
Don't Let Your Competitors Beat You
Your patients can see and feel the difference!
Many of your competitors have solved this problem with the proven science of sanitizing with steam.
Sargent Steam is a pivotal part of how hundreds of dentists keep their offices and operatories clean and sanitary and their infectious rate at nearly zero.
Ask around – see how many of your fellow dentists, dental labs, dental schools and oral surgeons are already using Sargent Steam to control germs, dirt and cleaning costs in their practices.
Don't Let Your Budget or
Your Patients Lose Out
On the Benefits of State Of The Art Technology
We know what you're up against keeping your dental office clean and green, your budget in the black and your patients in the pink. That's why we're committed to helping you solve every one of your cleaning and sanitizing challenges.

We'll show you a sustainable, reusable system that pays for itself quickly and then actually adds dollars to your bottom line.
Please call 1-800-SGT-STEAM now to schedule a consultation. Even if you're not currently over budget, we'll show you just how much you could be saving.
Call 1-800-SGT-STEAMfor purchasing and training info
You'll use a Sargent Steam Cleaner – Dental Office Sanizing System in every room in your dental practice…
Operatories
Waiting rooms
X-Ray and Lab areas
Reception desks
Employee areas
Public and common areas
Restrooms
Children's toy rooms
Kitchens and breakrooms