Customer Satisfaction Guaranty
It's our goal to be sure every customer is happy, happy, happy.
That's why we promise to provide the best products, support and customer education in our industry.
As our customer, you have unlimited free access to live support and our extensive learning library forever.
Ask us any question – we will teach you how to make your new Sargent Steam Cleaner perform like magic.

If you are ever dissatisfied, even a little bit, we will do whatever it takes to make it right.
If you are not satisfied with one of our products at the time you receive it, or if one of our products does not perform to your satisfaction, you may return it to us for a repair, replacement or refund
- Julie Verrinder, Owner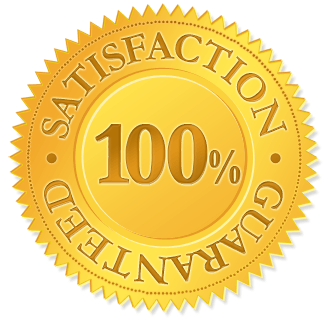 Sargent Steam Cleaner Warranty
Sargent Steam warrants model BRZ2 Steam Cleaner
to be free of defects in workmanship, parts and materials for
2 years and 5 years for the boiler under normal use
Damage due to ordinary wear and tear will be repaired at a reasonable charge
Contact us for details. 1-800-SGT-STEAM
What's not a warranty issue but very avoidable
dropping your machine or dropping something heavy on it
unauthorized repairs or non-Sargent Steam parts
soaking or immersing in water
putting anything other than water in the tank
pulling the hose apart at the handle or plug
letting your steamer freeze
lending it to untrained users
pigtailing the electrical cord or snapping off the ground plug
failure to heed the cautions or best practices
failure to keep minerals from building up in the tank
Activate your warranty here
The Sargent Steam Cleaner Warranty – Guaranty fine print and legalese…
The 2 years (5 years on the boiler) warranty covers defects, not misuse. Please read CAUTIONS and BEST PRACTICES to avoid unnecessary repairs. Specifically, misuse may include, but is not limited to, dropping the steamer, dropping something on the steamer, freezing, pulling the hose apart, failure to flush minerals, adding anything but water to the tank, pulling plug before turning off power switches, mis-winding the electrical cord causing "pig-tailing", etc.
This warranty shall extend for a period of two years from the date of the product purchase, with an additional three years (five years total) on the stainless-steel boiler. Sargent Steam warrants the BRZ2 Steam Cleaner to be free of any defects in workmanship and materials under normal use upon the terms and conditions hereinafter set forth. This warranty will be in force only for the period of warranty duration specified herein when the product is owned by the original purchaser, and is limited solely to the repair or replacement of original parts which in the opinion of Sargent Steam, are defective in workmanship or material and which are returned to Sargent Steam.
The Liability of Sargent Steam shall be limited solely to the cost of the affected part and may not included labor charges. All other costs, including the costs of shipment to Sargent Steam for service or repair under this warranty, shall be those of the purchaser.
1. Sargent Steam shall be under no obligation to honor any claim under this warranty in the event that: the product has been misused, used for commercial purpose, used with a non Sargent Steam accessory, neglected or damaged in transit; has been tampered with in any way; if the maintenance procedures set forth in the owners instruction booklet have not been observed; if the serial number affixed to the product has been tampered with, defaced or removed.
2. This warranty is automatic. The Sargent Steam cleaner and Sargent Steam Iron are automatically warranted for two years (five on the boiler) from the purchased date if your name, product serial number and date of purchase were recorded in our database.
NOTICE: The user assumes the risk of and this warranty does not cover, and there is hereby excluded liability for defects, failure, loss, deterioration, personal injury or damage to personal property which are due to (i) ordinary wear and tear or exposure, (ii) misuse, abuse, alteration, negligence, or (iii) the installation of parts other than genuine Sargent Steam parts or equivalents, or (iv) if product has been serviced by any person other than an authorized Sargent Steam service technician.
PLEASE NOTE: In no event shall Sargent Steam, its distributors or dealers be liable to the purchaser of said products or to third parties for special incidental consequential damages to person or property, or any loss occurring as a result of death or personal injuries.
Some states do not allow the exclusion or limitation of incidental or consequential damages, so this limitation or exclusion may not apply to you. This warranty gives the purchaser specific legal rights, and the purchaser may also have other rights which vary from State to State. Sargent Steam does not authorize any person to assume on its behalf any other obligation or liability other than set forth herein.
This warranty is not transferable. Sargent Steam is not a party to and shall not be bound by any other warranty given in connection with the product identified herein. If a service problem should arise, contact SARGENT STEAM at 1-800-SGT-STEA(M).