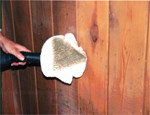 By Julie In Blog
9 Tips To Restoration And Clean-Up After Smoke And Fire Damage

A recent wildfire in Herriman, Utah (20 miles south of Salt Lake City) caused extensive fire damage. Well over 1400 families to evacuate their homes. It took firefighters several days to bring the blaze under control and only 4 homes were actually lost.  The families who were able to return to their homes were faced with a daunting task. Even if their homes didn't suffer actual fire damage, many homeowners were completely unprepared for the huge job of restoring and cleaning up the smoke, ash and carbon residue that covered every inch of everything they owned in their homes and around their property.

Here Are 9 Tips for Restoration and Cleaning Up Fire Damage
Pressure wash or scrub all exterior surfaces including walls, walks, drives, decks, windows and screens.
Wash all interior walls and hard surfaces with a steam cleaner. Don't forget inside cabinets, drawers and closets. Steam undersides of furniture, tables and chairs.
Launder or dry clean all clothing, linens and bedding.
Wash all moveable items, including picture frames, knick-knacks with a Sargent Steam cleaner and a soft microfiber cloth.
Disinfect and deodorize all carpets, window coverings, upholstered furniture and mattresses with steam.
Upholstery, fabric window treatments, etc. can be spray-treated with deodorizing products available at most supermarkets, but do not use odor-masking sprays – it just covers up the problem and doesn't last long term. Steam actually melts the tar and neutralizes the odor and carbon film left by forest fire, cigarette smoke or wood burning fireplaces and stoves.
Have heating, ventilating and air-conditioning units and all duct work professionally cleaned to remove soot, ash and smoke residue. Change filters when you first return to the premises and at least once a month for the first year.
Vacuum up dry aerial fire retardant or firefighting foam residue from inside the house or car. Pressure wash the home/car exterior and use a steam cleaner to remove the stuck on residue from inside surfaces.
Ash and soot on the ground and in your landscaping will continue to generate smoke odors and airborne particles when the wind blows so water it down regularly. Until the ash and soot are diluted and absorbed into the environment, run an indoor mechanical air filtration system to help minimize the uncomfortable and potentially health-threatening impact of these pollutants.

Most of these fire damage tips can be completed with a few power tools – an outdoor pressure washer for the outside of your home and a Sargent Steam cleaner, dishwasher and washer/dryer for the inside of your home. If you're new to steam cleaning, you're going to be pleasantly surprised how fast, easy and effective it is at getting into all those nooks and crannies that regular cleaning chemicals and techniques can't.

You may not get all these tips finished in one day but once you've laundered, steamed or pressure washed from rooftop to foundation and from floor to ceiling, you and your home will no longer smell like a camp fire.


I was just sick when I saw the buildup from the smoke that covered everything. I was sure the acoustical tiles would have to be replaced and the wood paneling was beyond salvage. I could never have painted over the filth and it looked like I would have to spend thousands of dollars replacing all these damaged surfaces.

I would not have believed the results the Sargent steam cleaner produced if I had not seen it with my own eyes. I didn't have to replace the acoustical tiles because the soot came right off the with steam. The buildup on the wood paneling steamed right off and the cinder block wall came virtually spotless even in the holes and mortar.

The best part about cleaning with steam is the SMOKE SMELL IS GONE…not just covered up with chemicals or perfume.

I just love my Sargent. I honestly don't think I have ever made a more important investment. I saved enough on this one project to recoup my entire steam cleaner investment. I can't thank you enough for introducing me to the fabulous tool!
- Bonnie - Hidden Haven Campground

*Some Fire Damage Tips are recommendations from FEMA