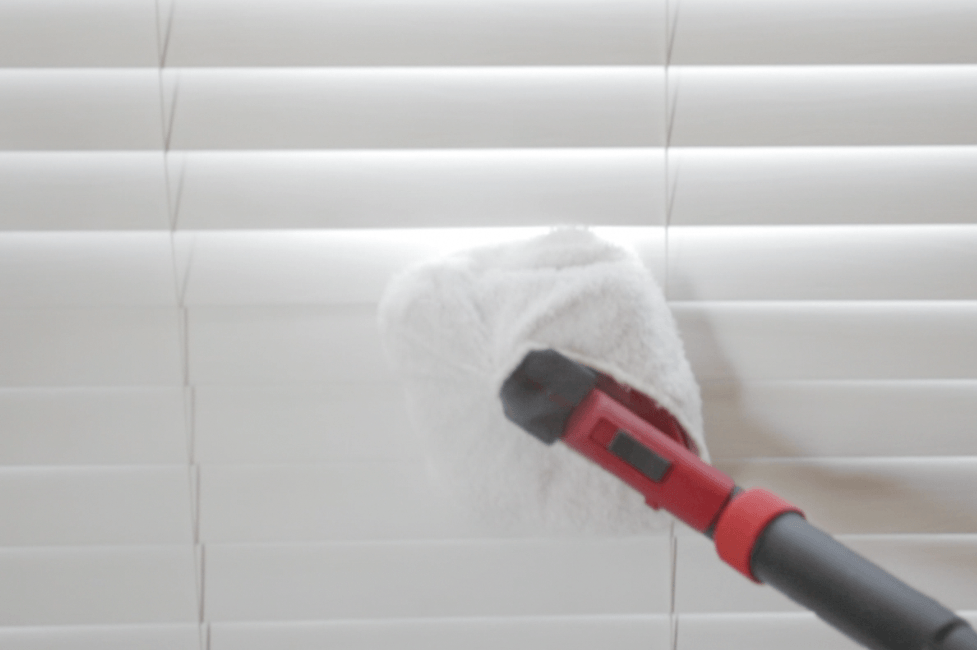 By Julie In Blog
See how to clean window blinds
How many hours of your life have you wasted taking the window blinds down, scrubbing them in the bathtub with soapy water, hanging them up to dry, putting them all back into their brackets on the windows and adjusting them so they hang straight again?  Not exactly my idea of a good use of anybody's time.
How To Clean Window Blinds the Fast Easy Way
The blinds in bedrooms and living rooms tend to be just dusty. Those in the kitchen area may have a layer of greasy cooking film on them.
This is how to clean window blinds that are just dusty
Leave them in the window – extend and close them fully
Wrap your diamond brush with a clean white cloth and steam several slats per swipe
You'll clean and dry them in one step so it's much faster
Change your cloth as it gets dirty so you don't move dirt from one place to another
Move in between the strings so you don't drag dirt onto them
Twist the blinds to expose the other side and repeat the process
This is how to clean window blinds in the kitchen area that have a layer of greasy cooking film along with the dust
Leave them in the window – extend and close them fully
Attach your nozzle and 2 inch soft brush
If the grease is really thick, add a drop of dish soap to bare bristles instead of covering with cloth
Then wrap brush with a clean white cloth and steam one slat per swipe
Change the position of your cloth as it gets dirty so you don't move dirt from one place to another
Move in between the strings so you don't drag dirt onto them
Twist the blinds to expose the other side and repeat the process
CAUTION: Make sure your blinds are at least and 1/8th of an inch thick. Really thin blinds will warp if you touch steam to them directly. Use the spray and wipe method on those. Painted or varnished blinds and plantation shutters are fine to steam, just keep moving – don't leave the steam sitting in one place too long. You want to clean your window blinds, not melt the paint or varnish