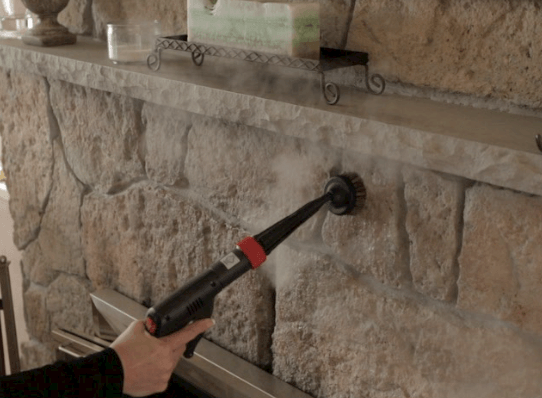 By Julie In Blog
Steam cleaner fireplace cleanup…
Sargent Steam Cleaner gets your fireplace spic and span quickly and easily. Remove ashes, carbon film, dust and soot from every surface in and around your fireplace.
Watch the video – Sargent Steam cleaner Fireplace Cleanup
Steps to follow – Sargent Steam Cleaner Fireplace Cleanup:
Vaccuum up loose ashes first
Attach the nozzle to the hose and add a 2 inch soft or stiff (you decide) brush
Dip your brush in a bit of bar soap to speed up the process – it really cuts through the carbon
Use the low or medium steam setting to clean off ashes, carbon film, dust and soot etc.
Start from the top and work your way down picking up the drips
Rock, brick, stone, marble…pretty much any fireplace material is safe to steam clean
Steam the mortar or grout with a smaller 1 inch brush and test whether you like the soft bristles or stiff
Remove ashes and soot from the screens and the doors
Don't forget the fireplace tools as well
Wipe up moisture with a paper towel – it's likely to be pretty black so save your washable cloths for another use
Now tidy up the mantle and hearth – use the two step (spray and wipe) or cover your brush with a cloth
Blast dust from the pictures, plants, candles, etc. that decorate your fireplace
A Sargent Steam Cleaner fireplace cleanup success story from Kim Dapper…

My amazing Sargent Steamer was put to the test! My rental condo had 15+ years of built up soot on the face of the fireplace from improper use and surface-only cleaning from my property management team.

I was told by masonry professionals that an acid wash would probably be the only way to clean the rock. Not so! After purchasing my Sargent, I used the one-inch nylon brush and bar soap — the black soot ran down the rocks like a river.

What a fun discovery — beautiful, colorful rock underneath! No acid or chemicals needed and now maintenance is quick and easy after each ski season. My Sragent Steam is one of my best investments EVER!