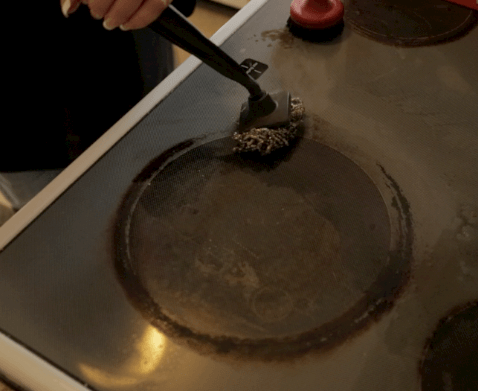 By Julie In appforthat
Steam Clean Stove Tops the fast easy way
When you steam clean stove tops…
even the greasiest ickiest stove tops come sparkling clean without harsh toxic chemicals.
The burnt-on food just melts under the 300 degree steam – no fumes – no rubber gloves – no kidding
Watch the video – how to steam clean stove tops
Steps to follow  to steam clean stove tops:
Attach the nozzle to the hose
You have several options for brushes – use what works best to steam clean your stove top. Either a 2 inch stiff bristle brush, a 1 inch stainless steel brush OR a square PowerPad disk.
For ALL brushes (whichever you decide) wrap with the scrub bud.
Use low steam – medium or high just splashes the grease farther and actually blows the heat away from where you need it.
Let the heat do the work.
DO NOT SCRUB – keep the scrub bud immobile touching the greasy spot until the steam has had a chance to melt through the baked-on mess.
Now gently abrade away the melted food. The scrub bud is wound, not cut so it's safe to use on most stove tops.
Wipe up with a paper towel.
The only additive that is effective is a drop dish soap – it's a good grease cutter and can really speed up the process of steam cleaning stove tops. But only a drop – otherwise you'll have a ton of bubbles and lots of rinsing to do.
It's safe to steam clean stove tops made of cast iron, stainless steel, tempered glass. Just test how much abrasion your stove top can take. DO NOT scrub off the paint if your stove top is painted porcelain.
Burner knobs can be steam cleaned as well. Same policy applies – test how much abrasion they can take and DO NOT scrub off the painted numbers.