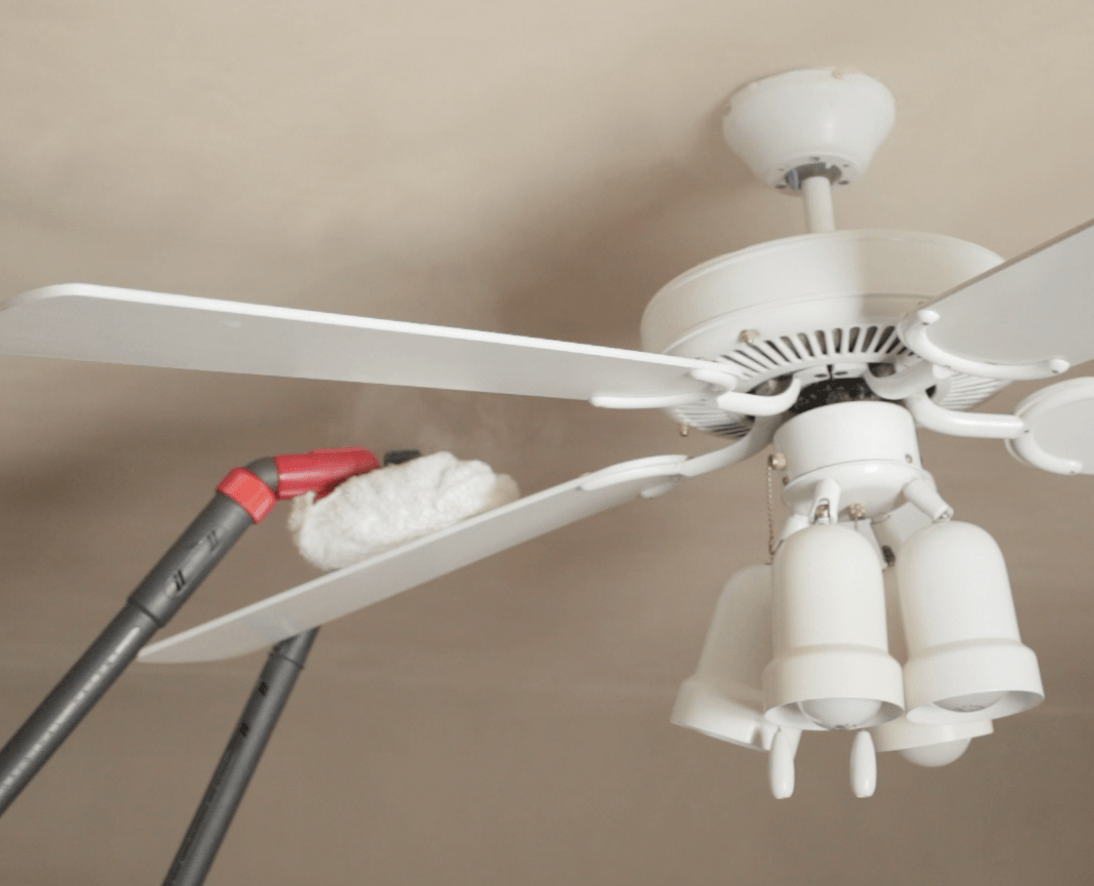 By Julie In Blog
Steam Cleaner Ceiling Fan…
Sargent Steam Cleaner gets your ceiling fan blades clean and dust-free without a ladder. Stand comfortably and reach even the tops of each blade.
Watch the video – Sargent Steam Cleaner Ceiling Fan
Steps to follow – Sargent Steam Cleaner Ceiling Fan:
Attach the Diamond brush covered with a clean white cloth
Swivel the brush to the upside down configuration
Add extensions (as many as you need) to reach the top of the blades
Hold the blade in place with another stick (a broom handle works here) so it doesn't run away from you
Start with one blade and work your way through each one
You'll be picking up dust and stuck on dirt at the same time
Change your cloth as it becomes too dirty
Vaccuum up any dust that escaped your cloth from the floor beneath the ceiling fan
If your ceiling fan has a light fixture, steam that part clean with the bare nozzle
Sargent Steam Cleaner Ceiling Fan…

The ceiling fan in my bedroom spins 24/7. I just sleep better with air flowing. I turned it off the other day so I could change the light bulb and I was mortified! I have never seen so much dust caked on anything in my life! The edges of each blade were disgusting. The vent over the motor was solid.
I vacuumed the loose stuff along the blade edges but there was a grimy film stuck to every nook and cranny. I heated up my Sargent Steam and turned my diamond brush upside down so I could steam the tops of the blades. The cloth came away filthy! I changed the cloth and steamed the blade undersides too.
I switched to the nozzle with a cloth-covered brush to unclog the motor vent. Then I cleaned the light fixtures and bulbs and dried them with a microfiber. Took about 5 minutes!
The whole fan is now sparkling clean and runs much more smoothly and quietly.