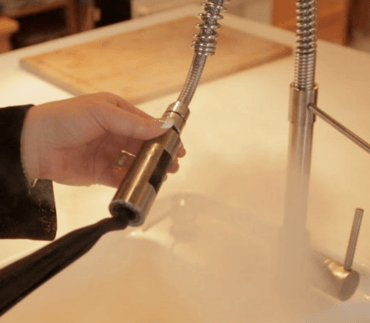 By Julie In Blog
Steam Cleaner Faucets…
Sargent Steam Cleaner gets your faucets gunk-free without chemicals. Blast stuff from even the hardest to reach areas where food, grease, mold and mildew collect.
Watch the video – Sargent Steam Cleaner Faucets
Steps to follow – Sargent Steam Cleaner Faucets:
Use the bare nozzle to blast debris from seams, nooks and crannies
Pull out faucets that extend to blast what collects inside
The heat kills germs and bacteria
Touch all surfaces directly for 2 seconds to sanitize
Wipe with a clean microfiber cloth to shine the chrome after steaming
For heavy mineral buildup, use that Orange Stuff or Tub and Tile
With regular steaming, the minerals won't build up again
Steam kitchen, bathroom, shower and tub faucets regularly to avoid mold or bacteria buildup
Keep a microfiber cloth near each faucet to remove splashed or standing water before it leaves spots or grows mold
Sargent Steam Cleaner Faucets…

What is that stuff that collects in the seams where my sink meets the faucet? It seems like it's growing. It's black and nasty and it smells really bad. Probably mold or grease or both. I tried a butter knife and a screw driver. But I still couldn't get it all. I was looking for something that would actually blast all the icky stuff right out of that tiny space. I found Sargent Steam cleaner worked best. The pressure and heat did the trick. No more mold, grease or bad smell. Awesome!"
With a Sargent Steam Cleaner faucets come gunk-free even the hardest to reach areas. Steam pressure can send the whole mess out of that crevice and sanitize the surface in it's wake. No more mold or hard water deposits. Just clean shiny faucets that look (and smell) new.
Not much can hide from 50 pounds of pressure and nearly 300 degrees. You'll be amazed (and a little grossed out) the first time. But with regular steamings, the problem won't persist.