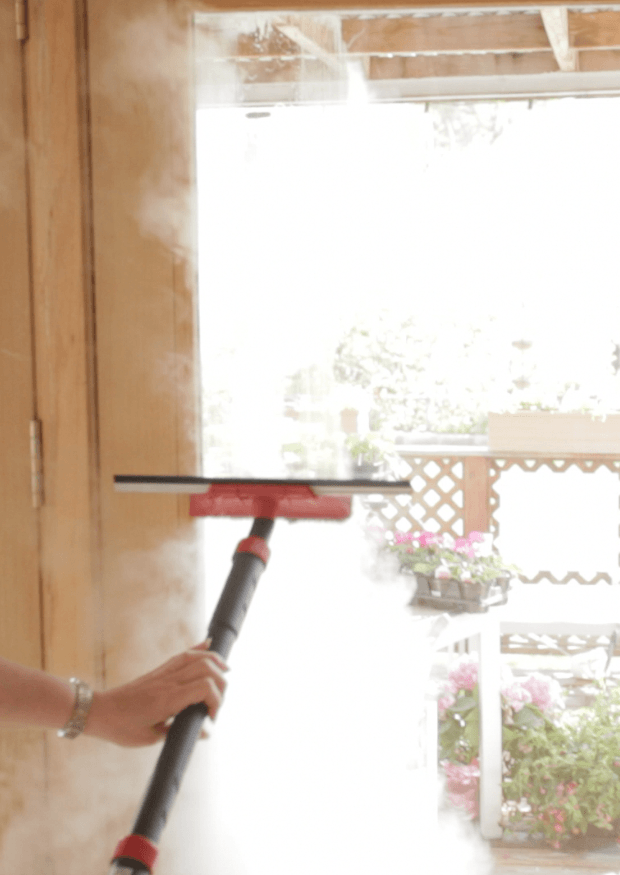 By Julie In Blog
When using your Sargent Steam cleaner on windows and mirrors…
the glass comes sparkling clean quickly and easily – no streaks or smudges – no messy blue chemicals – no stinky vinegar or smudgy newspaper
The fingerprints, doggy nose art, weather, fly tracks just melt in the steam. The squeegee leaves the glass squeaky clean
Watch the video – Sargent Steam cleaner on windows and mirrors
Steps to follow – Sargent Steam cleaner on windows and mirrors:
Attach the squeegee to the hose for small windows and mirrors
For big, tall windows and mirrors, add an extension or two to extend your reach and give you leverage
Use the brush side with the low steam setting to clean off dirt, fingerprints, doggy nose art, weather, fly tracks, etc.
Then swivel the brush to the squeegee blade to dry away all moisture from top to bottom or side to side
Just swivel the brush, don't flip it over from the hose handle
Wipe up any left over moisture at the bottom with a Sargent Steam glass microfiber cloth.
Practice with the squeegee blade – you shouldn't have to wipe the whole window again.
Helpful Hints:
The low steam setting is plenty powerful enough to clean without adding excess moisture. It's faster than you think and less moisture to pick up with a glass microfiber cloth.
Some windows or mirrors may have water spots or mineral deposits. Use a little Orange Paste to soften the minerals.
Tub and Tile is very effective on shower doors or windows the sprinklers hit every morning.
Since all minerals got left in the tank, you won't see mineral spots even if you don't dry away all the moisture.
No chemicals or additives are neccessary. No blue glass cleaner. It only leaves residue behind that causes streaks, smudges and attracts more dirt.